I can't fly.
I try to feed my children every night, but I never vomit blood into their mouths.
When I try to hang upside down – like from monkey bars at a playground – I have to clench my muscles, and pretty soon I get dizzy. I couldn't spend a whole day like that.
And, yes, sometimes I shout. Too often during the pandemic, I've shouted at my kids. But when I shout, I'm trying to make them stop hitting each other – I'm not trying to figure out where they are.
It's pretty clear that I'm not a bat.
#
Because I haven't had these experiences, philosopher Thomas Nagel would argue that I can't know how it feels to be a bat.
In so far as I can imagine [flitting through the dark, catching moths in my mouth], it tells me only what it would be like for me to behave as a bat behaves.
But that is not the question. I want to know what it is like for a bat to be a bat.
#
Perhaps I can't know what it feels like for a bat to be a bat. And yet, I can empathize with a bat. I can imagine how it might feel to be trapped in a small room while a gamboling, wiry-limbed orc-thing tried to swat me with a broom.
It would be terrifying!
And that act of imagination – of empathy – is enough for me to want to protect bats' habitats. To make space for them in our world. Sure, you could argue that bats are helpful for us – they're pollinators, they eat pesky bugs – but empathy lets us care about the well-being of bats for their own sake.
#
Literature exercises our minds: when we read, invent, and share stories, we build our capacity for empathy, becoming more generally aware of the world outside our own skulls.
Writing can be a radical act of love. Especially when we write from a perspective that differs from our own. The poet Ai said that "Whoever wants to speak in my poems is allowed to speak, regardless of sex, race, creed, or color." Her poems often unfurl from the perspective of violent men, and yet she treats her protagonists with respect and kindness. Ai gives them more than they deserve: "I don't know if I embrace them, but I love them."
That capacity for love, for empathy, will let us save the world. Although many of us haven't personally experienced a lifetime of racist microaggressions or conflict with systemic oppression, we all need to understand how rotten it would feel. We need to understand that the pervasive stress seeps into a person's bones, causing all manner of health problems. We need understand the urgency of building a world where all children feel safe.
And if we don't understand – yet – maybe we need to read more.
Experiments suggest that reading any engaging literary fiction boosts our ability to empathize with others. Practice makes better: get outside your head for a while, it'll be easier to do it again next time.
Of course, we'll still need to make an effort to learn what others are going through. Thomas Nagel was able to ruminate so extensively about what it would feel like to live as a bat because we've learned about echolocation, about their feeding habits, about their family lives. If we want to be effective anti-racists, we need to learn about Black experiences in addition to developing our empathy more generally.
Luckily, there's great literature with protagonists facing these struggles – maybe you could try How We Fight for Our Lives, Americanah, or The Sellout.
#
As a bookish White person, it's easy for me to empathize with the experiences of other bookish White people. In Search of Lost Time doesn't tax my brain. Nor does White Noise. The characters in these books are a lot like me.
The cognitive distance between me and the protagonists of Americanah is bigger. Which is sad in and of itself – as high schoolers, these characters were playful, bookish, and trusting, no different from my friends or me. But then they were forced to endure hard times that I was sufficiently privileged to avoid. And so when I read about their lives, perched as I was atop my mountain of privilege, it was painful to watch Ifemelu and Obinze develop their self-protective emotional carapaces, armoring themselves against the injustice that ceaselessly buffets them.
Another reader might nod and think, I've been there. I had to exercise my imagination.
#
In Being a Beast, Charles Foster describes his attempts to understand the lives of other animals. He spent time mimicking their behaviors – crawling naked across the dirt, eating worms, sleeping in an earthen burrow. He wanted a badger's-eye view of the world.
Foster concluded that his project was a failure – other animals' lives are just so different from ours.
And yet, as a direct consequence of his attempt at understanding, Foster changed his life. He began treating other animals with more kindness and respect. To me, this makes his project a success.
White people might never understand exactly how it feels to be Black in America. I'm sure I don't. But we can all change the way we live. We can, for instance, resolve to spend more money on Black communities, and spend it on more services than just policing.
#
Empathy is working when it forces us to act. After all, what we do matters more than what we purport to think.
It's interesting to speculate what it would feel like to share another's thoughts – in Robert Jackson Bennett's Shorefall, the protagonists find a way to temporarily join minds. This overwhelming rush of empathy and love transforms them: "Every human being should feel obliged to try this once."
In the real world, we might never know exactly how the world feels to someone else. But Nagel wants to prove, with words, that he has understood another's experience.
One might try, for example, to develop concepts that could be used to explain to a person blind from birth what it was like to see. One would reach a blank wall eventually, but it should be possible to devise a method of expressing in objective terms much more than we can at present, and with much greater precision.
The loose intermodal analogies – for example, "Red is like the sound of a trumpet" – which crop up in discussions of this subject are of little use. That should be clear to anyone who has both heard a trumpet and seen red.
#
We associate red with many of our strongest emotions: anger, violence, love.
And we could tell many different "just so" stories to explain why we have these associations.
Like:
Red is an angry color because people's faces flush red when they're mad. Red blood flows when we're hurt, or when we hurt another.
Or:
Red represents love because a red glow spreads over our partners' necks and chests and earlobes as we kiss and caress and fumble together.
Or:
Red is mysterious because a red hue fills the sky at dawn and dusk, the liminal hours when we are closest to the spirit world.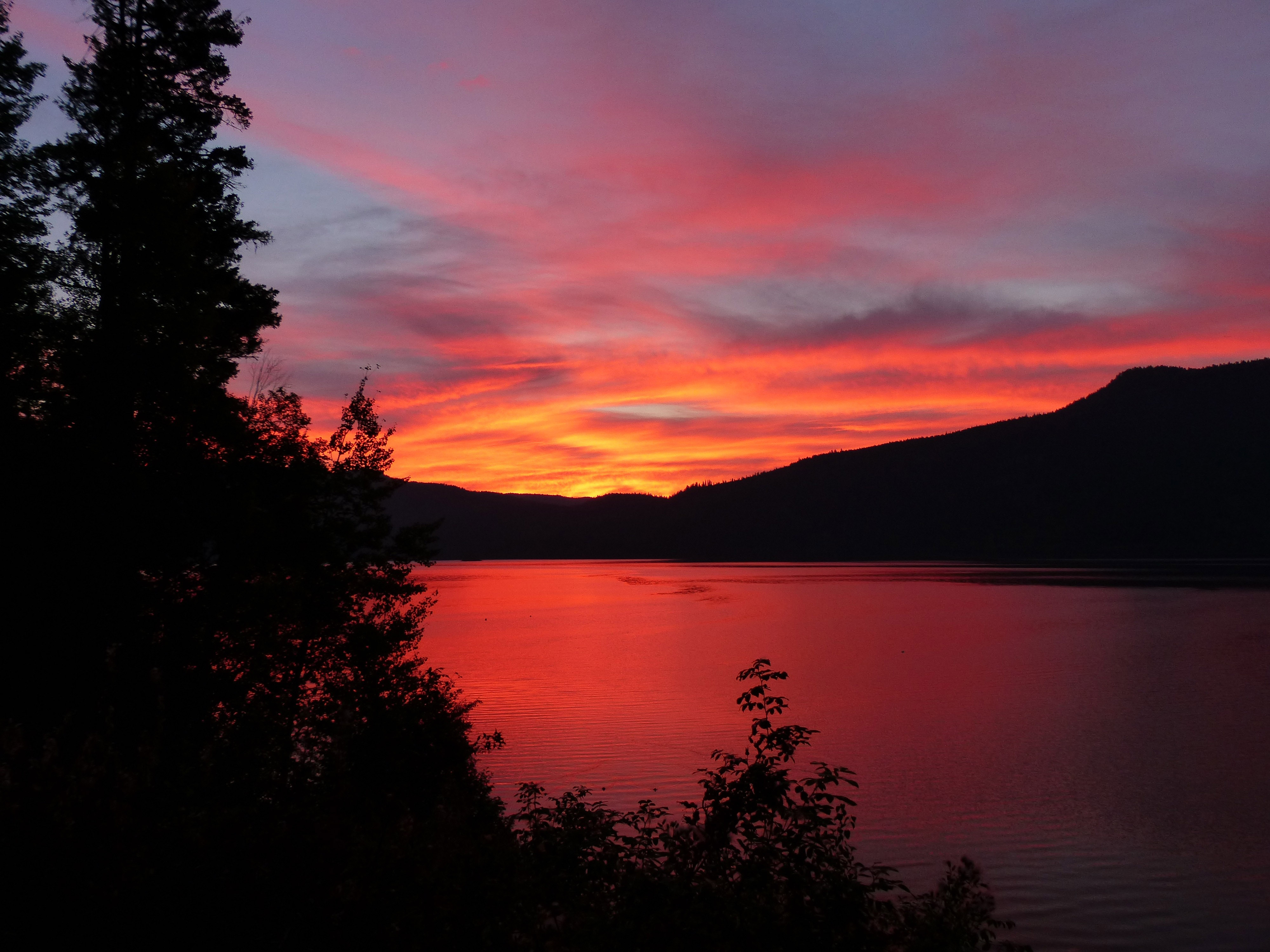 These are all emergent associations – they're unrelated to the original evolutionary incentive that let us see red. Each contributes to how we see red now, but none explains the underlying why.
#
We humans are blue-green-red trichromatic – we can distinguish thousands of colors, but our brains do this by comparing the relative intensities of just three.
And we use the phrase "color blind" to describe the people and other animals who can't distinguish red from green. But all humans are color blind – there are colors we can't see. To us, a warm body looks identical to a cold wax replica. But their colors are different, as any bullfrog could tell you.
Our eyes lack the receptors – cone cells with a particular fold of opsin – that could distinguish infrared light from other wavelengths. We mistakenly assume these two singers have the same color skin.
When we look at flowers, we often fail to see the beautiful patterns that decorate their petals. These decorations are obvious to any bee, but we're oblivious. Again, we're missing the type of cone cells that would let us see. To fully appreciate flowers, we'd need receptors that distinguish ultraviolet light from blue.
#
Most humans can see the color red because we're descended from fruit eaters. To our bellies, a red berry is very different from a green berry. And so, over many generations, our ancestors who could see the difference were able to gather more nutritious berries than their neighbors. Because they had genes that let them see red, they were better able to survive, have children, and keep their children fed.
The genes for seeing red spread.
Now, several hundred thousand years later, this wavelength of light blares at us like a trumpet. Even though the our ancestors learned to cook food with fire, and switched from fruit gathering to hunting, and then built big grocery stores where the bright flashes of color are just advertisements for a new type of high-fructose-corn-syrup-flavored cereal, red still blares at us.
Once upon a time, we really needed to see ripe fruit. The color red became striking to us, wherever we saw it. And so we invented new associations – rage, or love – even though these are totally unrelated to the evolutionary pressures that gave us our red vision.
Similarly, empathy wasn't "supposed" to let us build a better world. Evolution doesn't care about fairness.
And yet. Even though I might never know exactly how it feels when you see the color red, I can still care how you're treated. Maybe that's enough.
#
Header image: a greater short-nosed fruit bat, photograph by Anton 17.